El Salvador players refuse to be bribed ahead of World Cup qualification match, tonight
Ricardo Pidilla giving his statement to journalist after allegations for bribing El Salvadorian football players
According to leading news agency BBC, El Salvador's players where offered money from Salvadorian businessman Ricardo Padilla who was ready to reward his fellow national team players if El Salvador win, draw or avoid heavy loss. A heavy defeat could see Canada to progress at the expense of El Salvador's neighbours Honduras. FIFA has confirmed that it will investigate this case. El Salvador's captain Nelson Bonilla played 11 minute recording at the news conference where Padilla promised various amounts of money depending on the result. The amount of money ranged from $30 a minute for a win to $10 per minute for a 1-0 defeat. Bonilla made it clear that his team is against such actions and added that the team wants to be transparent to all such actions. Surely, El Salvador team is under pressure after 2013 match fixing scandal so everyone there is now really careful. Fourteen players of El Salvador where banned for life time after being found guilty for match-fixing. Padilla, a former president of El Salvadorian club Alianza FC told to the newspaper that he has not asking players to match-fix and stated: "Let them investigate. Those who want to see it as something bad can see it that way and those who want to see it as something good can too". At the end, the most money that a player could receive from this offer is $3,000.
What is strange, Padilla's offer seem to help Honduras, who will play difficult match against Mexico - the neighbouring countries have had difficulties in the past. The two Central American countries briefly went to war in 1969 as the conflict continued between these two football teams when facing each other known as the "Football war".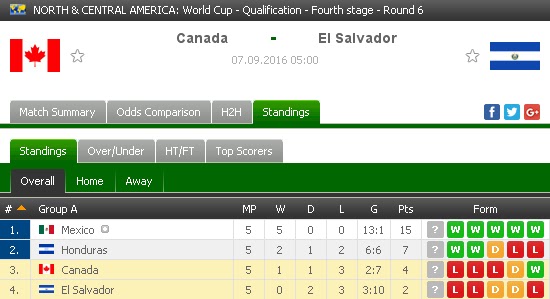 How can we use this information for betting? Well my initial and last thought is that El Salvador can be under pressure for result coming in a way that there where offered bribe off. So my belief is that they will lose this game. Also there are some circumstances that follow my decision to go against them. First of all, El Salvador have very poor away form. Their last away win was back in 2015 against poor Curacao (0-1) in the World Cup qualifiers match. After that they have 0-1-6 (3:13) score, losing their last away friendly match to Peru (3-1). They have also connected now 4 straight losses, most recently losing to Mexico at home (1-3). Second key fact for this bet is their missing players. Goalkeeper Hernandez (21/0), defender Molina (28/0), midfielders Renderos (23/0), Alvarez (43/4), attackers Burgos (51/13) and Corea (15/1) are not in the team for tonight's game. So if Canada wins El Salvador tonight in by big goal difference and Honduras losses to Mexico (which is pretty much expected) then Canada will promote to the next stage of World Cup 2018 qualifiers. And third key fact is my feeling that El Salvadorian players (and nation) would be happy to see Honduras drop out from World Cup qualifications.
My betting suggestion here is to go for Asian handicap (-1.5) on Canada @2.08 (BetVictor)
All interested for additional information for VIP matches effectiveness of our insiders about 80% per month !
http://betting-solution.serbianforum.info/t1-welcome-to-betting...
CONTACT via private messages
bettingsolutionforum@gmail.com
OR FACEBOOK PAGE
https://www.facebook.com/bettingsolutionforum/
►►MORE BETS ON THIS LINK: ONLY THE REGISTER -
http://betting-solution.serbianforum.info/register
-
---
Permissions in this forum:
You
can
reply to topics in this forum