With some painful memories dating from November 1993, France welcomes Bulgaria for their first football match since more than 20 years. Both sides have been drawn together in Group A of the 2018 FIFA World Cup European Qualifiers where we also find teams of the Netherlands, Sweden, Belarus and underdogs Luxembourg. "Les Bleus" are certain favourites for the first position but their goalless production against Belarus from just a month ago came as a sign that they shouldn't underestimate any other team, whether they play other favourites or teams which are playing for their honour. Like such we can describe Belarus, Bulgaria and Luxembourg since company of big names in European football like France, Netherlands and Sweden may be too much for their hopes, but they can surely dream and slipping some of the main Group A favourites can be a huge confidence boost for any of them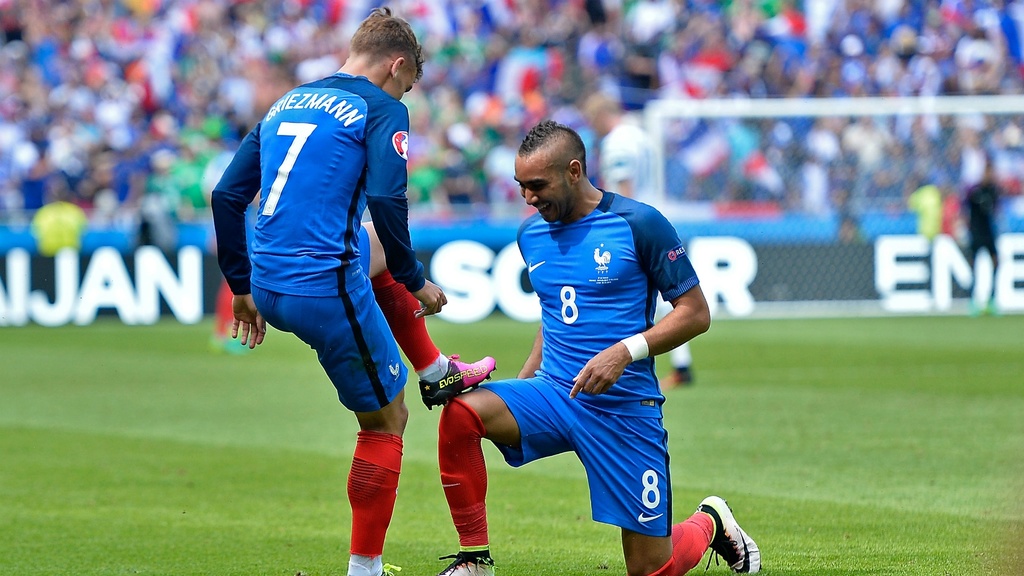 France vs Bulgaria – Team News and Match Preview
Surprisingly or not Bulgaria occupies first position after matchday one when "The Lions" were pretty close to live a real embarrassment when Luxembourg took the lead at the "National Stadium Vasil Levski" in Sofia. Even more, Luxembourg scored three goals in Bulgaria and they even made a comeback from 0-1 to 2-1, but the final score was 4-3 for Bulgaria. Anyway, Luxembourg were really close to steal a point from that 2018 FIFA World Cup qualifier when Florian Bohnert scored for 3-3 in the final minutes, but Bulgarians were lucky to score another one and Aleksandar Tonev's stoppage time strike was decisive for the final 4-3. Indeed, Bulgaria had to tremble a lot against Luxembourg at home and they were really close to record unbelievable failure in a match where away team has scored three goals, which happens for the very first time in their qualifying game away from home.
Despite that result Bulgaria can boast with the full asset of points and this leaves them above all other favourites since France failed to win in Belarus, while match facing Sweden and the Netherlands has ended with a draw – 1:1.
Didier Deschamps' men were absolutely inefficient at the "Borisov Arena" and their journey to Belarus can be outlined as an absolute failure. That happened only few days after France scored three times in Bari, where they won against Italy and no one expected such a clueless performance in Belarus. This requires absolutely different attitude in their first home qualifier since the 2014 FIFA World Cup playoff against Ukraine since we all know that France was host nation of the UEFA Euro 2016 last summer and they didn't had to participate in the qualifying campaign. When we mentioned Euro 2016 we should remind you that French selection will be even more determined to achieve expressive result against Bulgaria, since this will be their first home match after the lost final by Portugal on 10 July 2016. Real nightmare for everyone in France, but nevertheless, Didier Deschamps was awarded with more credit by the French Football Federation. Thus target can be only one and this goes through first position in group A of the 2018 FIFA World Cup qualifiers, followed by an appropriate results at the finals in Russia. Everything else can be rated as a failure and it will inevitably cost Didier Deschamps' coaching position.
France vs Bulgaria – Betting Tip and Possible Lineups
Didier Deschamps was not only part from the French setup under Aime Jacquet's leadership, but he was captain of the selection who have won over Bulgaria in their last meeting at the UEFA Euro 1996, where "Les Bleus" were victorious at the "St. James' Park" in Newcastle – winning with 3-1. This was decisive for any further hopes of both sides and English summer of Bulgarian team was ended after that loss, remaining in third position behind group winners France and runner-ups Spain. Believe it or not, that game was preceded by three consecutive wins for Bulgaria in period 1985-1993, as most memorable for them remains the one from 17 November 1993. Didier Deschamps was once again part from the French team which had to live with that terrifying memory caused by Emil Kostadinov's late winner. Legendary Bulgarian striker has netted twice for the 2-1 win at "Parc des Princes" in capital Paris, but undoubtedly second one from them was crucial for the headlines not only in both countries, but worldwide. Kostadinov scored the winning goal for Bulgaria in 90th minute and he sent every Bulgarian in a pandemonium joy, while every Frenchman was with tears on his eyes. That goal knocked France from the 1994 FIFA World Cup as they remained behind Sweden and Bulgaria, meaning they have missed two successive World Cup finals – the one in Italy'1990 and first ever hosted outside Europe or Latin America – in the United States. Rest is history since Bulgaria have reached their biggest ever football accomplishment by finishing fourth at the 1994 FIFA World Cup, while this remains last major tournament missed by France.
Enough history lessons, France remembers that horrible moment but situation 23 years is completely different and "Les Bleus" will chase convincing win over Bulgaria here. We just can't compare both squads, not even Bulgarian roster from period 1992-1996 to their current one, where we find mostly players from the domestic league or some other Eastern European leagues.
We must highlight that Bulgaria will be led by a new coach here since Ivaylo Petev, who led the team against Luxembourg, signed a contract with Croatian champion
Dinamo Zagreb and he's replaced by a player who was on the pitch against Deschamps in both above mentioned occasions – Petar Hubchev. The 52-year-old Bulgarian coach didn't have enough time to make its own call-ups and he'll use Ivaylo Petev's selection, but he doesn't have many options anyway. Most reputable names in current Bulgarian selection are goalkeeper of Ludogorets Razgrad – Vladislav Stoyanov, Palermo's midfielder Ivaylo Chochev, captain Svetoslav Dyakov (also player of Ludogorets), as well as two attacking midfielders who play for two of the most famous Russian clubs – Georgi Milanov (CSKA Moscow) and Ivelin Popov (Spartak Moscow).
Biggest mystery remains Bulgarian defense where we observed a line built by Strahil Popov, Ivan Ivanov, Bozhidar Chorbadzhiyski and Anton Nedyalkov. Latter two made their debut in that game and both youngsters who play in domestic CSKA Sofia couldn't do enough to impress against team like Luxembourg, so we firmly doubt they'll receive chance against France. Ivan Ivanov (defender of Greek Panathinaikos) isn't in current selection, so only Strahil Popov looks as a potential starter from the defensive quarter used vs Luxembourg.
Expectations are that experienced full back of Cypriot champions APOEL Nicosia Zhivko Milanov should start as a left-back here, while the centre-back duo of Levski Sofia can be used in that game. Aleksandar Aleksandrov and Dimitar Pirgov are both players used by Levski's coach Ljupko Petrović, as they form the strongest defense in Bulgarian First League – conceding just three goals in nine rounds. Thus Levski is on top of the league, even above Ludogorets, but playing in Bulgarian domestic league is one… now they must face against some of the strongest European players, and if Aleksandrov already has some experience with the national jersey (13 games) and as former player of Ludogorets Razgrad, this should be debut for Dimitar Pirgov.
On other turn we have Didier Deschamps who must defend its reputation and match against Bulgaria comes four days before the qualifying group A derby facing
France vs the Netherlands. Right after the game in Paris, France will travel to Dutch capital Amsterdam where on Monday night both group favourites will meet and match against Bulgaria comes as a perfect opportunity for "Les Blues" to gain some momentum. Their toothless effort against Belarus requires something much better, especially when they'll play at home turf, so expectations are not only for a win, but for something more expressive…
Main questions which Deschamps must take in the eve of match against Bulgaria are related with two key players in its defensive display – Raphaël Varane and midfielder N'Golo Kanté were both recovering from injuries, but they're back to full training since Wednesday. Normally expectations are that Varane and Kante should start against Bulgaria, but we won't be surprised if Deschamps decides to save them for game against the Netherlands. Keep an eye on that situation.
Another significant matter which Deschamps must think on is related with French attack where we can't find names of Alexandre Lacazette, Ousmane Dembele, Olivier Giroud, all of who've been called for the round in September. However, disappointing performance against Belarus requires something different and expectations are that France can even start with a 4-4-2 formation, naming both Atletico Madrid teammates on top – Antoine Griezmann and Kevin Gameiro.
Final conclusion and Betting Tip
Situation in Bulgarian football is getting worse and this apparently reflects to the national team. Last major event where "The Lions" managed to qualify was the UEFA Euro 2004 and since then there's serious lack of quality footballers in the country. Most people will related Ludogorets Razgrad with Bulgaria, but we must note that most their players are foreigners and one of them is already a national team player – attacking midfielder Marcelinho, who's certainly most creative name in Bulgarian national team at the moment. If something dynamic happens, this will probably happen with his assistance.
Our expectations are that eventual tight display of Bulgarian defense is likely until they concede once. Former defender Petar Hubchev is also known with its affinity to defense as a coach and we don't expect something different in Paris.
France looks too strong for Bulgaria and we find great value in odds for "Over 3 Goals" here. If French offensive players have good night we may have one really high-scoring game and they'll be eager for responding of all the criticism after the 0-0 draw in Belarus.
Attacking duo Griezmann/Gameiro can easily turn to a real nightmare for Bulgarian defenders, not without the support of players like Paul Pogba, Moussa Sissoko and Dimitri Payet, who just own the pace.
Venue: "Stade de France", Paris.
Referee: Luca Banti from Italy.
Possible starting lineups of France and Bulgaria
France: Hugo Lloris – Bacary Sagna, Laurent Koscielny, Raphaël Varane, Layvin Kurzawa – Paul Pogba, N'Golo Kante – Moussa Sissoko, Antoine Griezmann, Dimitri Payet – Kevin Gameiro. (4-2-3-1)
Bulgaria: Vladislav Stoyanov – Strahil Popov, Aleksandar Aleksandrov, Dimitar Pirgov, Zhivko Milanov – Ivaylo Chochev, Svetoslav Dyakov – Georgi Milanov, Marcelinho, Ivelin Popov – Dimitar Rangelov. (4-2-3-1)
EUROPE: World Cup - Qualification
20:45 France - Bulgaria
PICK: Over 3 goals
STAKE: Solution INSIDER 8/10
ODD: 1.82
RESULT: 4 - 1 WIN
----------------------
All interested for additional information for VIP matches effectiveness of our insiders about 80% per month !
http://betting-solution.serbianforum.info/t1-welcome-to-betting...
CONTACT via private messages
bettingsolutionforum@gmail.com
OR FACEBOOK PAGE
https://www.facebook.com/bettingsolutionforum/
►►MORE BETS ON THIS LINK: ONLY THE REGISTER -
http://betting-solution.serbianforum.info/register
-
---
Permissions in this forum:
You
can
reply to topics in this forum