Like yesterday and today a small number of appearances on the ogram, but we will try today to find some ineteresantne matches.
Yesterday's Vip and Solution matches , facts and analyzes matches have brought 100% effect. The article can be viewed HERE►►
http://betting-solution.serbianforum.info/t783-vip-matches-10-10-2016#978

16:45 Iran - South Korea
World Cup, World
They meet two very good teams, which speaks only state on the table. Iran is currently the best ranked team, while Korea followed closely. This will be a very tough match, and therefore we do not expect a lot of goals.
So far their matchup Iran has had more success, as you can see below.
18/11/14 FI Iran South Korea 1: 0
18:06:13 WC South Korea Iran 0: 1
10/16/12 toilet Iran South Korea 1: 0
22/01/11 CUP Iran South Korea 0: 1
(0: 0)
09/07/10 FI South Korea Iran 0: 1
17:06:09 WC South Korea, Iran 1: 1
11/02/09 toilet Iran South Korea 1: 1
We will give a slight advantage to host this match, again note that this will be a very tough game. Odds on the host is excellent and paid 2.50. On the other hand here is good and the option to play a small number of goals. Iran has played on three throws kept a clean sheet and scored only 3 goals, which means that they average one goal per game, so here imposes the game 0-2 goals or Under 3 goals. Their matchup since 2009 every encounter ended 0-2 goal.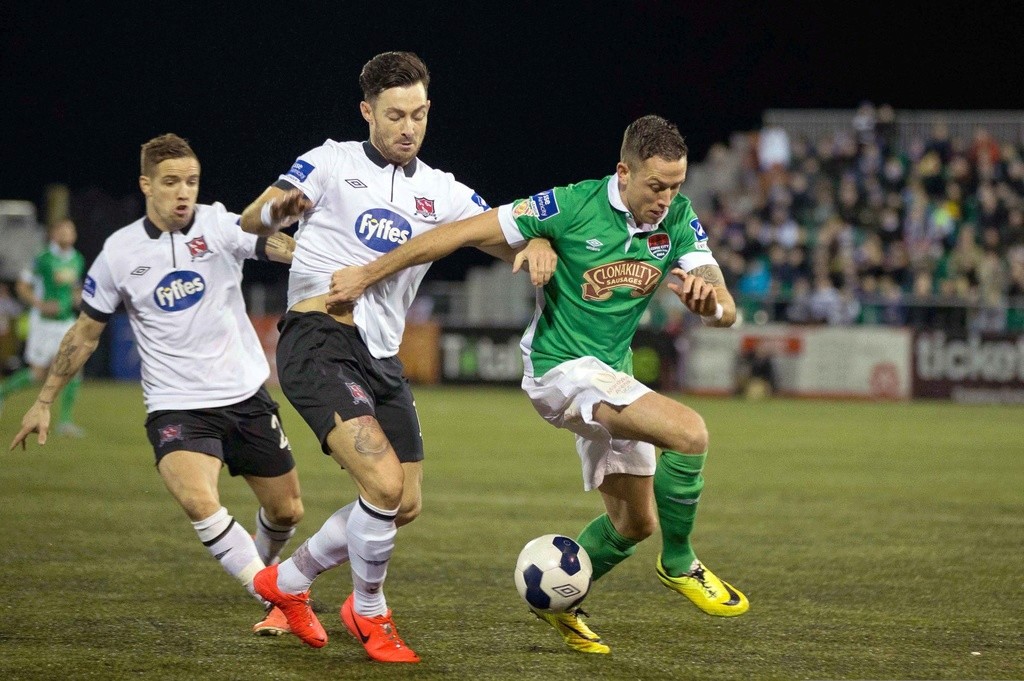 20:05 Dundalk - Cork City
Premier Division, Ireland
Match for first place in the table, Dundalk has 62 points, while Cork follows closely behind with point behind. Last round Dundalk at home lost to Sligo with amazing 0: 3 and therefore they endanger the first place.
Cork today has the opportunity to, if nothing else, keep the points difference, but in the best case and to take first place.
The quota has already started to grow in the host and guests on hand is the fact that their matchup had more success.
03:06:16 PD Cork City Dundalk 1: 0
18:03:16 PD Dundalk Cork City 0: 1
27/02/16 SC Cork City Dundalk 2: 0
08:11:15 FAI Cork City Dundalk 0: 1
(0: 0)
23:10:15 PD Cork City Dundalk 2: 2
07.26.15 PD Dundalk Cork City 1: 1
Also, it can be noted that their duels quite hard, but usually end up with fewer goals. At the same time it is one option for this match, since Cork at home to 16 matches has a goal difference of 16: 3, which is very fit in a small number of goals.
Here we will try and surprise the guests, and the odds are excellent and paid 3.00, so it is suitable for DrawNoBet2 or X2.
Injuries and suspensions Representation for today:
Source:
http://betting-solution.serbianforum.info
Denmark in Montenegro
Denmark Nicolaj Thomsen (1/0 m), Daniel Wass (15/0 m), Jores Okore (8/0 d), Henrik Dalsgaard (3/0 d), Michael Krohn-Dehli (56/6 m), Martin Braithwaite (14.1 f), Morten Rasmussen (13.4 f), Lasse Vibe (10/1 f)
Montenegro: Mirko Vucinic (44/17 f, 2nd top scorer, captain), Nikola Vukcevic (1.18 m), Aleksandar Scekic (4/0 m) (all doubtful), Marko Basa (37/2 d), Luka Djordjevic (4/1 f), Filip Stojkovic (1/0 d), Vukasin Poleksic (38/0 g), Vladimir Volkov (17/0 d), Mladen Kašćelan (25/0 m), Vladimir Vujovic (7/0 d ), Petar Grbic (7/0 m) 
Germany in N. Ireland
Germany: Jerome Boateng (66/1 d), Jonas Hector (23.1 d) (both probably in), Bastian Schweinsteiger (121/24 m, retired), Antonio Rüdiger (11/0 d), André Schürrle (55 / 20 m), Marco Reus (29.9 m), Lukas Podolski (f 129/48, top scorer, retired), Mario Gomez (68/29 f), Karim Bellarabi (1.11 m), Max Kruse (14 / 4 f)
N. Ireland: Craig Cathcart (32/2 d), Liam Boyce (7/0 f), Roy Carroll (44/0 g), Chris Baird (79/0 d, retired), Will Grigg (8/1 f) Daniel Lafferty (13/0 d), Billy Mckay (11/0 f) 
Norway in San Marino
Norway: Stefan Johansen (3.31 m, suspended), Ole Selnæs (8/0 m, possible suspension), Havard Nordtveit (2.29 m), Martin Linnes (15/0 d), Magnus Wolff Eikrem (17/0 m), Mohammed Abdellaoue (33/7 f, 2nd top scorer), Vegard Forren (32/1 d), Alexander Soderlund (26.1 f), Omar Elabdellaoui (22/0 d), Valon Berisha (20/0 m , changed to Kosovo)
San Marino: Mirko Palazzi (27/0 d), Matteo Vitaioli (43/1 f) (both suspended), Filippo Berardi (1/0 f), Nicola Chiaruzzi (9/0 m), Michele Cervellini (28/0 d ), Giovanni Bonini (23/0 d), Lorenzo Gasperoni (10/0 m) 
Poland in Armenia
Poland: Łukasz Piszczek (52/2 d), Arkadiusz Milik (33/1 f), Michał Pazdan (22/0 d), Jakub Wawrzyniak (49/1 d), Artur Sobiech (13.2 F), Bartosz Salamon ( 9/0 d)
Armenia: Up Malakyan (5/0 m, suspended), Henrikh Mkhitaryan (60/19 m, captain, top scorer), Edgar Manucharyan (50/9 f), Hovhannes Hambardzumyan (1.15 d) Gevorg Ghazaryan (51 / 9 m), Artak Yedigaryan (21/0 m), Karlen Mkrtchyan (46/2 m), Artur Sarkisov (35/5 f) 
Slovakia in Scotland
Slovakia: Lukáš Stettin (1/0 d, doubtful), Tomáš Hubočan (48/0 d, suspended), Peter Pekarik (72/2 d), Norbert Gyömbér (16/0 d), Milan Skriniar (4/0 d) Viktor Pecovsky (35/1 m), Ondrej Duda (2.14 m), Vladimir Weiss (56/5 m), Stanislav Sestak (66/13 m, retired), Ján Mucha (46/0 g), Miroslav Stoch (55/6 m), Robert Vittek (82/23 f, top scorer)
Scotland: Gordon Greer (11/0 d), Darren Fletcher (75/5 m, captain) (both doubtful), Alan Hutton (50/0 d), Allan McGregor (35/0 g), Charlie Mulgrew (24/2 d), Steven Whittaker (31/0 d), Scott Brown (50/4 m), Scott Brown (50/4 m, retired), Ross McCormack (13.2 f) 
Slovenia v England
Slovenia: Kevin Kampl (2.24 m), Robert Beric (12.1 F), Petar Stojanovic (4/0 d), Miso Brecko (77/0 d, retired), Andraz string (01.25 d), Rajko Rotman (8/0 m), Andraz Kirm (71/6 m)
England: Tom Heaton (1/0 g), Ryan Bertrand (10/0 d), Phil Jagielka (39/3 d), Glen Johnson (54/1 d), Nathaniel Clyne (13/0 d), Raheem Sterling ( 2.27 m), Adam Lallana (1.27 m), Harry Kane (17/5 f), Luke Shaw (6/0 d), Jack Wilshere (34/2 m), Ross Barkley (22.2 m) James Milner (61/1 m, retired), Danny Welbeck (34/14 f, 2nd top scorer), Danny Drinkwater (3/0 m)
All interested for additional information for VIP matches effectiveness of our insiders about 80% per month !
http://betting-solution.serbianforum.info/t1-welcome-to-betting...
CONTACT via private messages
bettingsolutionforum@gmail.com
OR FACEBOOK PAGE
https://www.facebook.com/bettingsolutionforum/
►►MORE BETS ON THIS LINK: ONLY THE REGISTER -
http://betting-solution.serbianforum.info/register
-
---
Permissions in this forum:
You
can
reply to topics in this forum